Full Width Image Background
Full Width Image Background
Text
Grants and programmes
We support a range of initiatives to champion our local health care system and to advance a diverse workforce.
Text
We help create a healthier world
Greater diversity among health care professionals can improve patient care, leading to better health outcomes. There is an opportunity to cultivate a health workforce that reflects our society.
We're particularly proud to promote diversity in higher education through the Optum Ireland Health Care Scholarship Programme and to support candidates with disabilities to enter the workforce through the work of our All Ability team. 
Text
Video
Optum Ireland Health Care Scholarship Programme
Delivered in partnership with LYIT, Ulster University and NUI Galway, our programme funds four undergraduate scholarships for students residing in County Donegal to study health care or emerging technologies.
Video Component
ON SCREEN TEXT:       Optum Ireland
                                    Healthcare
                                    Scholarship
                                    Program
                                    Creating the Healthcare workers of the future
A man in a suit interviews.
ON SCREEN TEXT:       Padraig Monaghan
                                    CEO Optum Ireland
MONAGHAN: This is our role we're playing in the community to help develop the future healthcare professionals, and we as a company are going to sponsor a set number of students per year to make sure that we and the local community have a pipeline of healthcare professionals.


A couple walks along a beach with their dog. A woman interviews in front of the ocean.
ON SCREEN TEXT:       Mary Gallagher
                                    Optum Healthcare Ambassador
GALLAGHER: The majority of the time spent studying medicine has been in Galway, away from home. And with such an intense course fee it is understandable that it's very difficult to get a part-time job or anything. The expense is quite significant. It'll be great to just take the stress of that off somebody's shoulders.
Relaxed guitar music plays. Sunlight beams down on a sprawling hospital campus.
GALLAGHER: So after having spent a year training in Letterkenny Hospital it did reinforce the idea that Donegal is where I would love to come back to live and to work, and to work in Letterkenny Hospital.
Inside the hospital, young medical professionals work and study.
GALLAGHER: I do think that the Optum Scholarship scheme will also reinforce that idea in young doctor's heads as well. I feel like that is what is needed in the area in order to provide high quality healthcare and it's something I do feel really passionate about.
Two rows of young men and women in formalwear pose for a photograph. The students in the first row sit and hold red and gold framed certificates. The second row stands behind them.
ON SCREEN TEXT:       Optum Ireland Healthcare Scholars
                                    2018/2019
One of the scholars interviews.
ON SCREEN TEXT:       Caoilinn Diver
                                    Pharmacy Scholar
DIVER: This scholarship has really reduced a huge financial burden for both myself and my family in terms of university fees and living costs. Without Optum I'd definitely couldn't have put maximum time and effort into my studies.
Sitting at a wooden table, Diver writes in an Optum booklet. A pencil case, calculator, and stack of binders surround the booklet.
DIVER: Work placement has really provided me with an insight into the everyday real-life questions that patients ask about their prescriptions and medications.
She reads a textbook in front of a metal gate. Beyond the gate is a sprawling green lawn surrounded by a hedge.
DIVER: And it has really shown me the trust that patients have for their local pharmacist.
She writes in a textbook. Now Diver crouches beside a large brown dog.
DIVER: This is one of the main reasons why I have chosen pharmacy as a career; to help others long-term in the area where I love.
A stone castle with spires and turrets towers over a row of lush trees.
ON SCREEN TEXT:       Graduate Entry School of Medicine
                                    Ulster University, Magee Campus
Students happily chat with each other as they squeeze together around oval tables to eat a meal. Behind them, sunlight streams through a wall of windows.
ON SCREEN TEXT:       Professor Malachy O'Neill
                                    Provost Ulster University
O'NEILL: So if you consider some of the statistics that would suggest that eighty percent of medical school graduates spend twenty years living and working within a twenty mile radius of where they've studied…
Students sit on the manicured campus lawn beneath the castle.
O'NEILL: You get an impression of the impact that it'll have on this city, and indeed the wider city region.
A river peacefully drifts through a picturesque city. Spires atop stone buildings reach into the sky above the buildings around them. A woman interviews in her office.
ON SCREEN TEXT:       Margaret O'Connor
                                    Principal, Loreto Milford
O'CONNOR: As principal of a very large school in the northwest…
A teacher lectures at the front of a classroom.
O'CONNOR: I think the more opportunities the students have to have support available to them, particularly financial support, the better.
Students seated around a science lab write in notebooks.
ON SCREEN TEXT:       Padraig Monaghan
                                    CEO Optum Ireland
MONAGHAN: The people are the lifeblood of our community, so educating the future healthcare professionals, educating the future technologists, educating the future workers is a very, very important part of what we do.
An Optum Ireland brochure sits on a wooden table.
MONAGHAN: And that's exactly what this program is designed to do. We have many challenges in this community, but we also have many significant opportunities.
Mary Gallagher and her companion walk along a beach.
MONAGHAN: And I think the people are the significant opportunity. And this is our way of making sure that we make that link between the fantastic local talent that we have available here in the northwest, and particularly in Donegal, and the healthcare needs of the future.
Upbeat music plays. A slide with the Optum logo shows headshots of five students.
ON SCREEN TEXT:       Optum®
                                    Optum Ireland
                                    Healthcare Scholars 2020
The photo of the man and woman in scrubs reappears.
ON SCREEN TEXT:       Optum Ireland
                                    Healthcare
                                    Scholarship
                                    Program
                                    Creating the Healthcare workers of the future
Text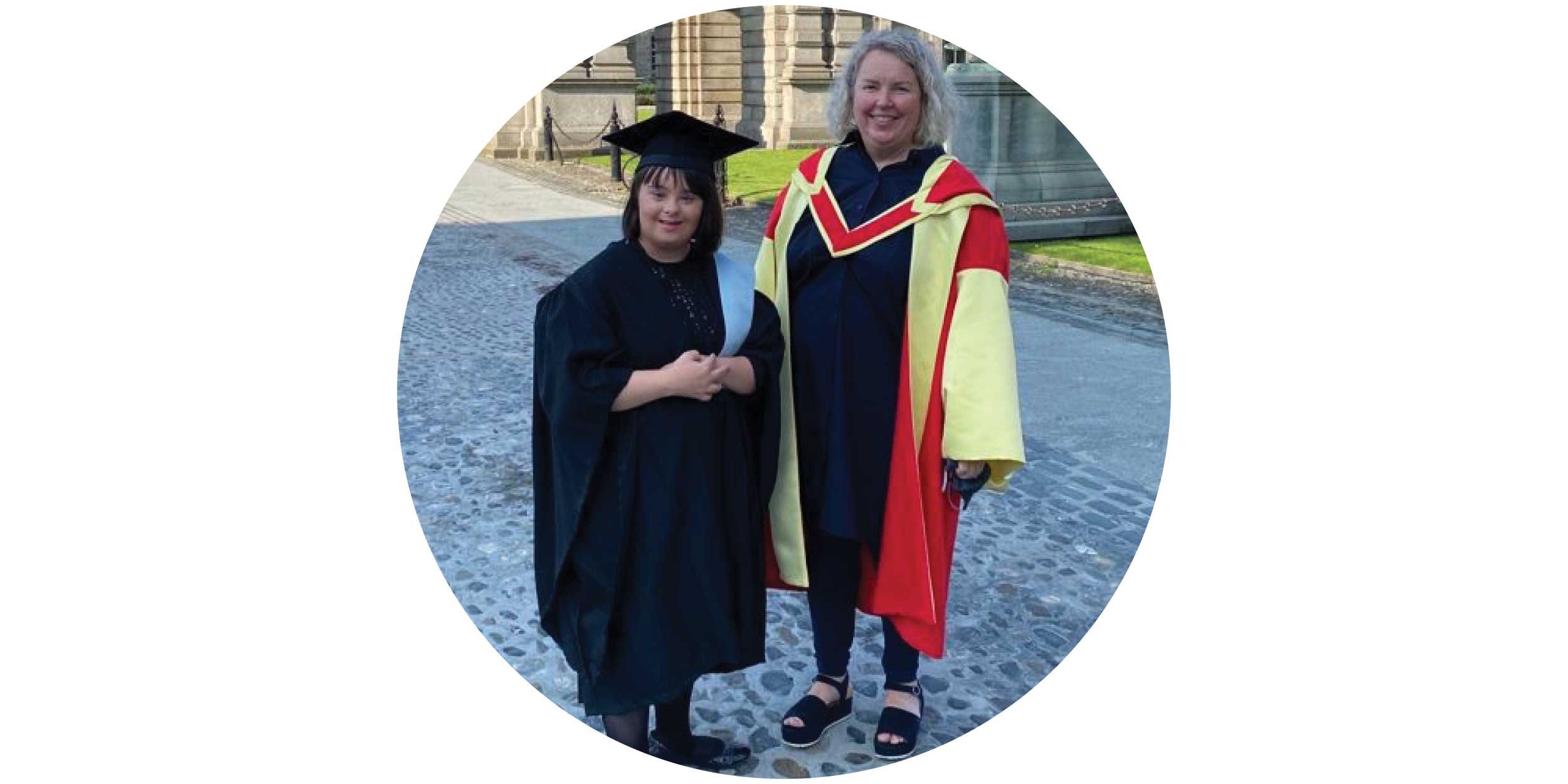 Text
All Ability Programme
Working with AHEAD and the Trinity Centre for people with intellectual disabilities, we fund and facilitate internships and employment for graduates with a disability.
Text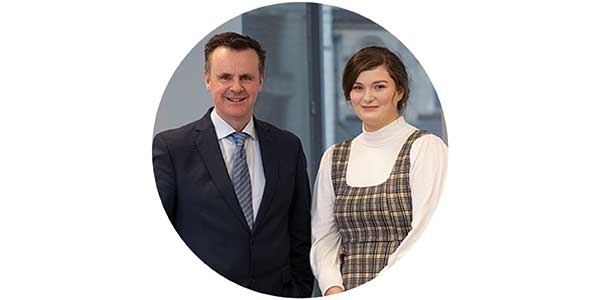 Text
The Optum Graduate Entry Medicine Scholarship
Our graduate entry programme funds two postgraduate scholarships in partnership with the School of Medicine at Ulster University. 
Text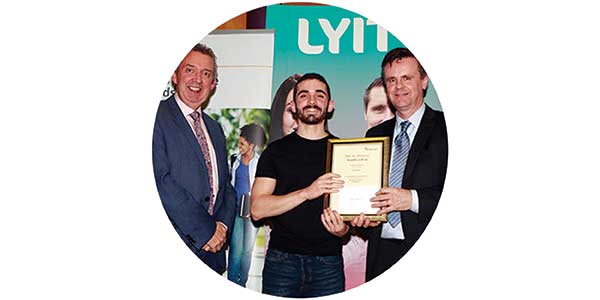 Text
Opt To Achieve
Encouraging first-year students at LYIT, this programme presents high performers — across a range of disciplines — with a financial reward.